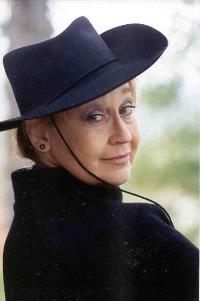 Bonda Lewis received BA and MA degrees in Theatre Studies from San Jose State University in San Jose, CA, and trained in the professional program at American Conservatory Theatre in San Francisco.  She has appeared as an actor, dancer and director with professional companies from the Oregon Shakespeare Festival to Center Stage Resident Company, Baltimore, and Alpha Shakespeare Company in Dublin, Ireland.  She co-founded an improvisational group, Penny Plain Theatre in San Jose, CA.  In addition to performing and directing, she also teaches various theatre disciplines and writes shows, plays, short stories and poetry.  She has performed and directed both her work and others' in theatres, schools, hospitals, libraries, universities, military installations and clubs throughout the United States and Northern Europe.
Ms Lewis's scholarly historical explorations have yielded membership in the Institute for Historical Study (San Francisco), the National Coalition of Independent Scholars, the Western Association of Women Historians, the Women's Heritage Museum of San Francisco, the Nevada Women's History Project and the National Women's History Project.  She has pursued research in numerous libraries and museums: Stanford and San Jose State Universities, the University of California, Vassar College, the New York Public Library, the Huntington Library in San Marino, the Edinburgh Public Library and Maps Room, the Fawcett Library of Women's Studies in London.
For 'The Powder Keg', a study of the development of the nursing services attached to the armed services of America and Great Britain from 1809 to 1949, research took her to England, Scotland, Portugal and Washington, D.C, and around the United States.  Sources for the letters, journals and reports that comprise the text of the show were found at the Royal Army Medical Corps Museum and Queen Alexandra's Royal Nursing Corps Museum in Ash Vale, the Florence Nightingale Museum in London, the Army Center for Military History and the Army Nursing Corps Museum at Ft McNair, the Library of Congress and National Archives in Washington, D.C., and the archives of Women in Military Service of America in Falls Church, VA. The text also intertwines the words and stories of British and American World War II nurses she interviewed as part of research for the show.
She has received grants from the Institute for Historical Study both for original research on "The Powder Keg" and to support travel and research for a work-in-progress "Corsets to Combat Boots," a collection of oral histories from Second World War nurses in the Engish and American services. As Sara Bard Field, she participated in a statewide tour through a Nevada Humanities Council grant to Jean Ford and the Nevada Women's History Project.